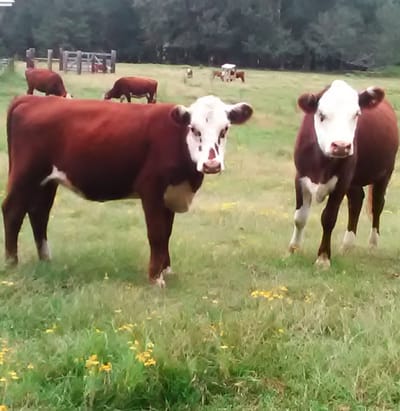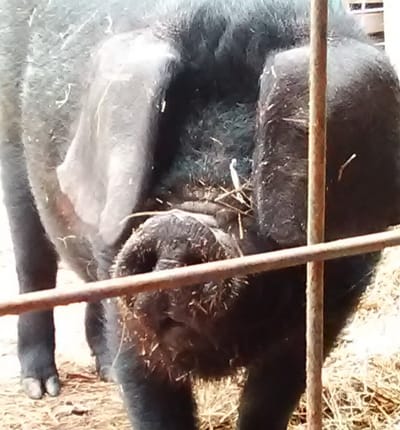 FROM OUR PASTURES TO YOUR FREEZER AS EASY AS 1-2-3
1 - Purchase a live animal share with deposit and we raise it to market weight.
2 - Select your beef/pork cut preferences or choose all ground beef.
3 - We deliver your frozen meat packages to you or pick-up at our farm in Alabama. We do not ship.
We raise Hereford and Hereford-Angus grass-finished beef cattle along with old-fashioned hogs on our family farm in central Alabama. The pastures and woodlands provide for plentiful grazing in a stress free environment.
The best way to describe our grass-finished naturally raised meat is that it has a nice flavor profile. Our farm fresh meat has been described as flavorful and rich. You can also be assured that our animals are raised with care without added growth hormones, no steroids, and no antibiotics.
When it comes to nutrition the general consensus is that grass-finished naturally raised meat is higher in key beneficial nutrients, including antioxidants and vitamins, particularly vitamin A and E along with more healthy omega-3 fats and beta-carotene making it nutrient dense and something to consider when purchasing meat.
Our freezer beef cattle will be ready for processing at a weight that will produce the best quality beef from 800-1200 lbs. The freezer pork hogs are ready for processing at a weight that will produce the best quality pork from 220-260 lbs.
In addition to our nutrient dense pastures, spring water and mineral supplements are readily available for all animals and hay produced on our farm is provided during the winter as needed. Our hogs also eat fruits and vegetables grown on the family farm and may receive supplemental feed which contains vitamins and minerals.
Our Guarantee To You:
Grass Fed
Grass Finished
No Added Growth Hormones
No Steroids
No Antibiotics
Raised With Care
See the
FAQ
page for more information, including pricing and answers to many of the questions we receive.